Google has announced a new tool that will let users track their lost Android ph
ones on a map, ring them and remotely erase all the data on the phone.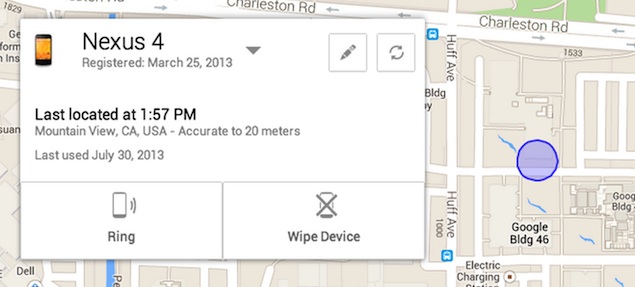 In a
blog post
, Google mentions that Android Device Manager, can quickly ring a linked phone at maximum volume so that users can find it (even if it's been silenced), or locate it on a map, in real time. It mentions, "If your phone can't be recovered, or has been stolen, you can quickly and securely erase all of the data on your device to keep your data from ending up in the wrong hands."

Its not sure why Google jumped the gun early and made the announcement, even though the service is still awaiting a launch. It could have announced it when the service was ready.

Apple, Microsoft and BlackBerry have been offering online utilities, namely Find My iPhone, BlackBerry Protect, and Find My Phone, respectively, that let owners of phones track the location of their handsets, lock them, trigger an alarm and wipe data remotely, for a long time.

Google is late to the party, however, making the utility a part of Android would benefit a large number of users. Handset makers like Samsung and HTC already offer similar tools with their Android phones. Sony had also
started rolling out its remote security service
"my Xperia," in July.

While third-party services offered by companies like McAfee, Norton, Quickheal and Kaspersky, among others also offer mobile security services, they charge users a one time or recurring fee.