By SheebaSudeep
Nokia unveiled its new member Lumia 1020 in just three words: 41, meagpixel,camera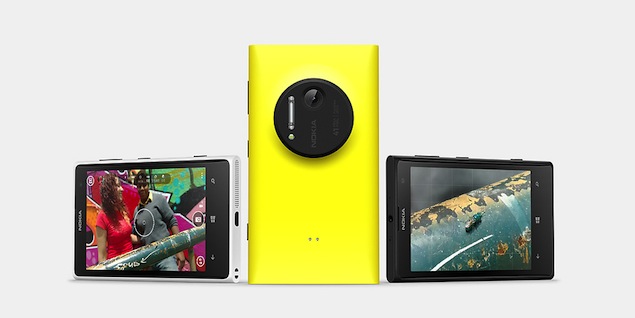 Unveiling the new device in New York, Nokia said its Lumia 1020 smartphone "is able to produce some of the sharpest images possible by any digital camera."
The Windows Phone 8 device will sell in the U.S. exclusively at AT&T for a hefty $299.99 with two-year contract. Preorders begin July 16, with the Lumia 1020 becoming available online and in stores July 26.
You read it right: The Lumia 1020's stunningly enormous image resolution is this smartphone's single killer feature and sole reason for being.In this smartphone, Nokia pairs an ultralarge camera sensor with the company's PureView image-processing software, that makes this smartphone the one we hoped.
Camera geeks looking for the nitty-gritty will this being featured by find six-lens Carl Zeiss optics (as in the recently unveiled

Lumia 925

), which also takes on wide angles.
It has got high-resolution 3x zoom, autofocus (you can manually focus, too), and a dual-flash system. A smaller LED flash complements the larger Xenon flash and the entire shooter captures 1080p HD video at a rate of 30 frames per second.
Ball bearings surrounding the lens ensures image stabilization. It is claimed that ball bearings replaced the stabilizing springs found in the Lumia 920 to conserve space and keep the camera mount profile as low as possible.
Nokia has also come up with strides and had successes with its low-light photos. Nokia aims for even more improved low-light performance from its Lumia 1020 than Lumia 928.
Nokia's Pro Camera settings boast controls that let shutterbugs and serious photographers easily navigate their options on the 41-megapixel beast, including manual exposure settings and long exposure times. The camera app also includes a tutorial, which sounds helpful for newbies wanting to learn how to use their high-end phone.
Forty-one megapixels amounts to a lot of captured information, more than most people can and will really use, but the Lumia 1020's higher megapixel count translates into

a 5-megapixel image with lossless zooming

for higher-quality cropped photos.
In the Lumia 1020, Nokia is extending this "oversampling" method to video as well, which could mean some really high-fidelity HD captures when you zoom in. It isn't just about images with Nokia. Audio technology that Nokia calls "rich recording" promises to capture clear, distortion-free sound even in loud surroundings.
Design and specs
Of course, the matte white, black, or yellow Lumia 1020 is more than just a camera.
Like its predecessor's, the 1020's chassis is a unibody piece molded from high-quality polycarbonate. It also sports similar smoothly rounded edges and a slightly curved back, making it comfortable to hold.
Close up, there are a few differences between the two handsets.The Lumia 1020 is slightly thinner and lighter than the Lumia 920. The back of the 1020 also uses a soft-touch coating that feels less slippery than the 920's often-glossy back surface.
The screen on this 4G LTE smartphone has the same familiar 4.5-inch AMOLED PureMotion HD+ display with a 1,280x768-pixel HD display and a 16:9 aspect ratio. Nokia's Clear Black filter lies on top for cutting down outdoor glare. As with the new guard of Lumia phones, this 1020 has an ultrasensitive touch screen that you can operate with your fingernail or gloved hand.
Above the display, a 1.2-megapixel wide-angle front-facing camera sits at the ready to capture shots and HD video.The 1020 runs on a 1.5GHz dual-core Qualcomm Snapdragon S4 processor, and has 32GB of internal memory, supplemented by 7GB of SkyDrive cloud storage, courtesy of Microsoft. The phone is sealed in typical high-end Lumia fashion, so there's no expandable memory, though 32GB is a healthy helping.
Nokia has managed to keep the phone fairly thin, coming in at 0.4 inch like the rest of the Lumia line.
Although the Lumia 1020 will not come with wireless charging built in, you can buy an aftermarket charging cover. You can also pick up a camera grip made for the phone for $79.
Turning up the heat
With its 41-megapixel camera, Nokia's Lumia 1020 absolutely brings the wow factor, proving that Nokia can innovate in its own way, that it is a mobile force to be reckoned with.Nokia has certainly made good on its promise to produce Windows Phone devices at every price point. Yet with the Lumia 1020 being unveiled so soon after the

Lumia 925 global flagship and Verizon's 928 variant

, Nokia is now out and out flooding the market.