After the
update for Android devices
Google has now updated Google Maps for iOS, adding support for the iPad and bringing a revamped Maps interface that offers new enhanced navigation features including live traffic updates and incident reports.


The updated Maps app(version 2.0) also offers a new 'Explore' feature enabling users to browse and discover popular local places to eat, drink, shop, play and sleep. It also offers merchant deals through Google Offers, and indoor maps with walking directions for shopping centres, public transport stations and airports, among others.

The new user interface is cleaner compared to the previous one and brings a new slider menu at the left allowing users to switch between different layers including Traffic, Public Transit, Bicycling and Satellite.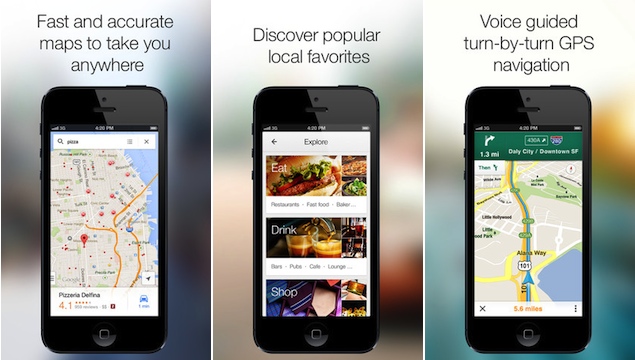 The major feature of the Google Maps app update is its support for the iPad and the iPad mini. The iPad interface is inline with the recent redesign of the app, that optimised it for Android tablets. The iPad app offers the same Card-like interface offering several route options when one searches for directions, in the form of cards. Different direction modes( driving, walking, transit) can be toggled from the search listing overlaying the maps without going to a different screen and losing map view.

The Explore page also lists places in different groups accompanied by images to make the experience better in terms of aesthetics. However, we were not able to access this feature, at the time of writing this post. Perhaps, it's not available in India.

It's also worth pointing out that the app can run only on iOS 6 or later.

This essentially means that in addition to getting a new Google Now cards-like interface, Google Maps will offer users live traffic updates/ alerts including incident reports in case of accidents, diversions and road blocks. The Explore feature appears to be an extension of Google's Places feature which highlights points of interest for users and offers reviews, ratings and other details related to places on Maps.

Google had first
announced the update
to its online Maps service and mobile and tablet apps, at its annual Google I/O event in May. Google also intends to release the updated app for iOS.

What's New in Version 2.0

● New design for iPad
● Enhanced navigation including live traffic updates and incident reports
● Explore: A new way to browse and discover popular local places to eat, drink, shop, play and sleep
● Simple 5-star ratings and reviews from friends, plus expert Zagat content
● Great deals from your favorite brands with Google Offers
● Indoor maps with walking directions for malls, transit stations, airports and more